Content:
1 X 30-minute conversation lesson
Teacher : Ichiyo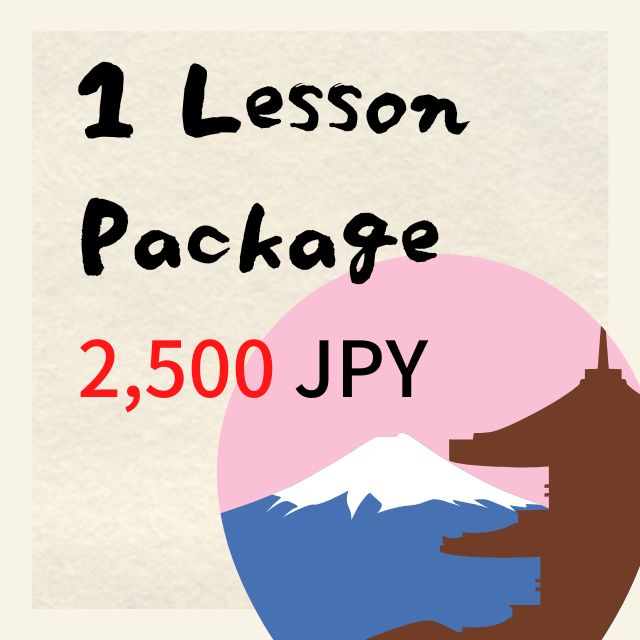 Lesson Schedule:
All lesson times are in Japan Standard Time (UTC+9).
For students who become members before September 24, 2023:
Monday to Friday: 10:00 A.M. ~ 11:45 P.M.
Saturday and Sunday: 9:00 A.M. ~ 11:45 P.M.
For new students (applicants) after September 24, 2023:
※ Monday to Friday: 8:00 P.M. ~ 11:45 P.M.
Saturday and Sunday: 9:00 A.M. ~ 11:45 P.M.
When you book your lesson, please contact Ichiyo through Skype message. We run a first come, first served system, so get your bookings in quickly.
Ichiyo's holidays or absences will be announced on the "Schedule" page on this website.
Fee and Payment Method:
Fee: 2,500 Japanese yen (Tax Included)
Payment Method: PayPal
Terms and Conditions:
・We are not responsible for the exchange rate.
・This package expires 60 days after payment has been successfully received.
・ Private Conversation Lesson does not contain "Daily Japanese Mail Support."
Things That Need to Be Prepared by Yourself:
This lesson will be held using Skype. Please obtain and prepare the following equipment in advance.
・Internet-enabled PC, laptop or smartphone.
・Webcam with built-in microphone or webcam with a separate microphone. Using a smartphone camera is also fine.
・Microphone headset (the use of a headset or headphones is recommended for providing an optimum lesson experience.)
・A smartphone microphone is also acceptable.
・Skype account.
Refund & Cancelation Policy:
・If your conversation lesson has expired, no refund will be provided. If you are unable to book conversation lessons within the validity period due to issues with our booking system, the validity period will be extended. In this case, we will contact you.
・If you have not taken any of the lessons, we will provide a full refund. Please make sure to submit a refund request within 7 days of your payment. We issue refunds through PayPal.
・You must inform us about the conversation cancelation lesson one day before the lesson schedule. If you fail to cancel your conversation lesson one day in advance, your booking will be forfeited and you will not receive a refund.
・If you want to change the date and time of the lesson that you booked, you must notify us one day in advance of the scheduled lesson. If we do not receive one-day prior notice of a lesson cancellation or booking change, your booking will be forfeited and you will not receive a refund.
・We cannot postpone or extend the lesson when you cannot take it due to your PC error during the lesson. Please check your internet connection, microphone, and speaker before the lesson.
Privacy Policy:
We do not provide your personal data to third parties. If you want to read more, please check our "Privacy Policy" page.
Lesson Flow:
① Purchase this package through the red button below.
② You will receive emails from PayPal and us. ※ It takes around 15 minutes to receive it after your payment.
③ Exchange Skype information and book a lesson.
④ Let us start our lesson!
Pay Now:
If you agree with the above terms and conditions, please enter your information and proceed to the payment page by clicking the button below.


※ If this lesson package is sold out, all lesson slots have been taken. Please wait for the next lesson slot to become available.