Contents:
Teacher : Ichiyo or other staff
・You can send us three emails a day for 30 days.
・You can take the "Student-Tailored Explanatory Sheet Service"
We can reply to your emails in Japanese or English.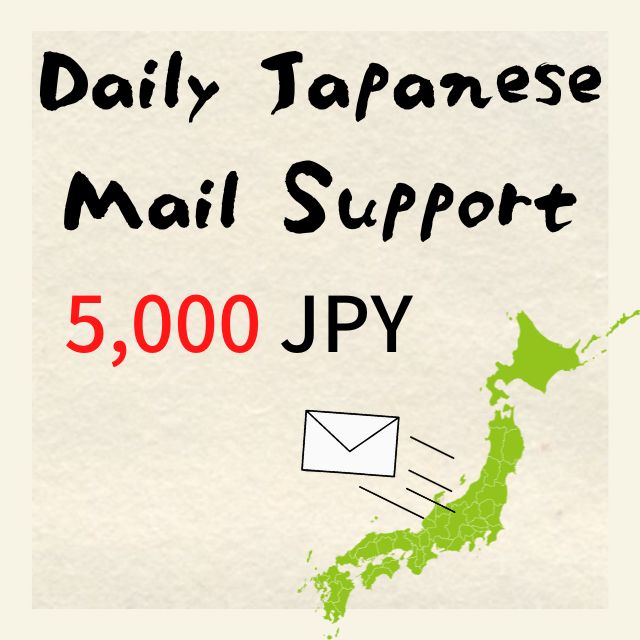 In the following cases, Ichiyo will make an explanatory sheet for you:
・When we want to impart you a specific piece of grammar, kanji, vocabulary, and so on.
・If your Japanese question requires a more in-depth explanation that cannot be answered using email.
Schedule:
You can message us anytime.
Ichiyo or his staff will reply within 2 days. However, we will reply to you as soon as possible.
If your question is difficult to answer using email, Ichiyo will make a tailored-explanatory sheet to properly answer your question. It may take a few days to complete and we endeavor to get them to you as quickly as possible.
When we take a day off, we will announce it on the "Schedule" page on this website. We will reply to your emails after the day off.
Fee and Payment Method:
30 days: 5,000 Japanese yen (Tax Included)
Payment Method: PayPal
If you would like to take this service for 60 days, please make two purchases. If you purchase three items, you can take it for 90 days.
Terms and Conditions:
・We are not responsible for the exchange rate.
・You can take this service 30 for days after payment has been successfully received.
※Only when you make a single purchase.
・You can send us emails three times a day. The emails should not have more than one topic.
・When you send your Japanese sentences, please limit them to 200 characters per email.
・When you attach a file, it is limited to one file per email. Please keep your submitted video or audio file under 30 seconds.
・Ichiyo or our staff will reply to your message within two working days. However, we will try to reply as soon as possible. You cannot choose the person who replies to your message. If we cannot reply to your emails in two days, we will announce it on our chat group or send you an email individually.
・We sometimes send our audio files or PDF files to teach Japanese. Please use an email address where you can receive them and please do not share them or our emails with any third party.
・ "Daily Japanese Mail Support" does not contain "Private Conversation Lesson."
Refund & Cancelation Policy:
・If you have not taken any of our services, we will provide a full refund. Please make sure to submit a refund request within 7 days after your payment. We issue refunds through PayPal.
Privacy Policy:
We do not provide your personal data to third parties. If you want to read more, please check our "Privacy Policy" page.
How to Start This Service:
① Purchase the package through the red button below.
② You will receive emails from PayPal and us. ※ It takes around 15 minutes to receive it after your payment.
③ You can download the PDF file "How to start Daily Japanese Mail Support" on the email from us. Our email address for this service is written on the PDF file.
④ Let us start this service!
Pay Now:
If you agree with the above terms and conditions, please enter your information and proceed to the payment page by clicking the button below.

※ If the "Daily Japanese Mail Support is sold out, all lesson slots have been taken. Please wait for the next lesson slot to become available.